It's no secret that I turned 40 recently, that I love birthday celebrations (not just mine!l) and I love color.... On Saturday night, my husband, Geoff, and I will be celebrating our birthdays with about 50 of our closest friends. Geoff and I were born 13 days apart in 1971 so we are sharing this momentous occasion. He is leaving all of the planning up to me. After the surprise he gave me for my birthday (a new car!), I am happy to let him off the hook. Plus, this is my thing! I love planning parties. I am thrilled to be planning a colorful 70s-themed 40

th

birthday bash for us.

The Theme and Color Palette
One of my favorite things about planning a party is coming up with a theme and color palette. For our party, I found inspiration in the 1977 hit movie Saturday Night Fever and my new favorite book: PANTONE: The 20

th

Century in Color. According to the book, "Travolta's white suit, the louche darkness of nightclubs, and the silver mirror balls are the starting point for the Night Life palette. Radiant pink and orange, pulsating yellow and cobalt, recall the passionate wonderland of the dance floor." Disco and glitz were all the rage during this era too.
Next was finding the perfect venue. We landed on "The Bar" at one of our favorite restaurants, Olympia Pizza on Seattle's Capitol Hill. It's warm, cozy, hip (but not too hip!), urban and yes, colorful! The restaurant is our go-to casual weeknight dining spot. We love the food and have gotten to know the friendly staff over the years since we're they're so often. It's kind of our home away from home.
The beautiful bar at Olympia Pizza is from Pioneer Square's departed J & M Cafe, a college haunt.
It's not quite New York's Studio 54 but we think it's perfect.
Another one of my favorite parts of any occasion is figuring out what I am going to wear. Geoff wasn't too keen on a costume party so we compromised. The invitation states: "We hope you will take some inspiration from the

c

o

l

o

r

s

of the 70's…. Costumes are optional but loud colors are not!" There has been a bit of confusion amongst my friends about what to wear. I am telling them they can interpret it however they want. My goal is fun and color....

If you're stuck for what to wear, here is a bit of inspiration.
My friend Tracy challenged me to wear this hot pink number.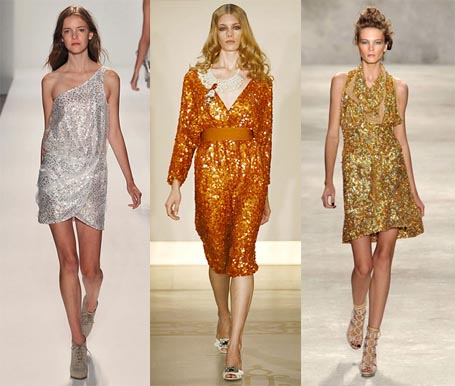 I am opting for a red-orange dress with a large ruffle across the neckline that is inspired by Saturday Night Fever. Geoff is still contemplating his outfit. I think he would look great in a white suit, don't you?!
I
f you're still stuck, the Pretty Parlor
on Capitol Hill has some great vintage dresses. Or just wear something colorful from your closet.

And last but certainly not least, another favorite was coming up with a signature cocktail just for our event. Geoff and I both love margaritas and I wanted our signature cocktail to be colorful, of course. So the fabulous bartender at Olympia Pizza came up with an orange margarita which I have named the Orange-alicious Margarita. This delicious concoction is
Sauza Hornitos tequila, muddled limes, oranges and lemons, fresh lime juice, and a splash of mandarin liqueur, on the rocks with salt.

Yum!
I'm ready for a fun party and for my forties to be fabulous! Bring it on.